OBBA Announcements
What's the buzz?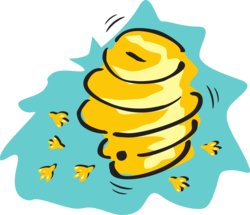 Workshops
We are still able to do some workshop activities safely during these COVID times …
If you are interested in visiting our association apiary or our member apiary, please reach out to one of our apiary managers on Slack.
Additional Workshop Ideas
Hive inspections
Varroa count/treatment
Build a super (Build a hive)
Mead Making
Wax Rendering
Swarm Capture
Storage
Performed Storage Housekeeping:
Financially

Smaller storage bin
Placed appropriately in association name

Logistically

Moved equipment into the new storage bin
Honey
We sold over 30 bottles last month!
We have more OBBA honey to purchase if you want some!
| Number (1 lbs) | Price |
| --- | --- |
| 1 bottle | $10 |
| 2 bottles | $18 |
| 3 bottles | $25 |