OBBA Announcements
What's the buzz?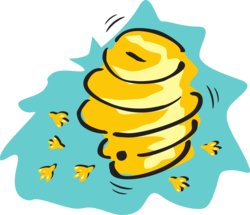 OBBA Workshops
If you are interested in visiting our association apiary or our member apiary, please reach out to one of our apiary managers on Slack.
Honey For Sale
We still have OBBA honey to purchase!
| Number (1 lbs) | Price |
| --- | --- |
| 1 bottle | $10 |
| 2 bottles | $18 |
| 3 bottles | $25 |
Research: The impact of beekeeper treatment on honeybee viruses
Allison:

OBBA Member
Biology PhD student at UCF

Goal: To help inform local beekeepers of what works best for their area in keeping viral loads down
Research: Participation
Survey regarding the various tools and methods we as beekeepers use to improve bee health
Sampling hives of willing beekeepers for common bee viruses
Siemens Green Initiative Partnership
In discussions with Siemens for a mutually beneficial relationship with 1-2 hives on their property!
Plan: Install 1-2 hives in the Spring!
Open floor for other announcements